Bitcoin approaches USD 10,000 and the market exceeds USD 300,000 million
The price of BTC and the total valuation of the market returned to values ​​of just over a year ago.
Bitcoin in its ascent also exceeded 50% of its historical maximum.
he barrier of USD 10,000 is an important psychological level in the current bitcoin rally bullish, and on Thursday night the pioneer cryptocurrency approached that significant point in its upward curve, exceeding USD 9,800.
At the time of writing this note, the price of BTC is USD 9,855, which reflects an appreciation of 6.14% in the last 24 hours. Approaching USD 10,000, the bitcoin's price also exceeded another important milestone: to exceed the midpoint of its historic high of December 17, 2017, USD 19,496, according to figures from Messari.
The first time that bitcoin franked the USD 10,000 line was at the end of November 2017, on the way to its highest point, which it would achieve a month and a half later. In its descent of that maximum point, the BTC's price showed a high volatility index, with important fluctuations around USD 10,000, a level that crossed in descent, for the last time, on March 8, 2018.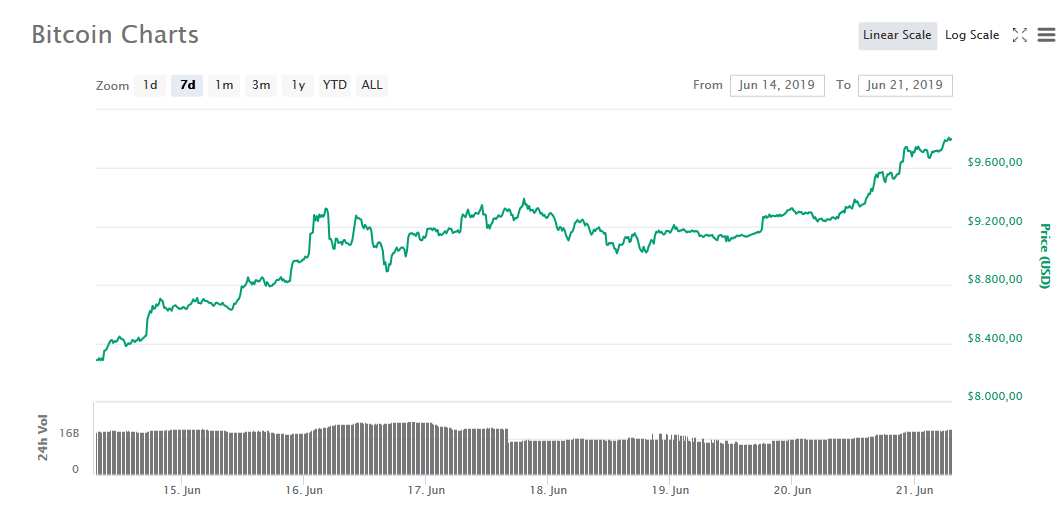 A temporary recovery, at the beginning of May 2018, brought BTC to a relative maximum of USD 9,843, which means that after 13 and a half months of fall and subsequent recovery, BTC is again in the vicinity of "the 10K" , or USD 10,000, but this time up.
The total capitalization of the cryptocurrency market managed to register USD 303 billion, a value that was not reached since June 11, 2018. Both bitcoin and the cryptocurrency market returned to the values ​​they had just over a year ago, with this boom. There is, however, a notable difference in the increase compared to their respective historical maximums, since BTC exceeded 50% of its maximum performance, while the market is at 38% of its historical maximum in terms of capitalization, USD 796 billion, reached on January 6, 2018.